The Global Logistics and Supply Chain students of the GMBA May 2016 batch visited the Desert Group Head Quarters located in Dubai on 12th February, 2017.
The students interacted with Desert Group's corporate team to understand their business model. The first half of the visit was focused on a presentation delivered by Ms. Misha Irfan (HR Executive). She gave the students a descriptive overview of the various verticals and businesses Desert Group functions within, such as design business, nursery and retail business and maintenance business. The history and role of each business was well communicated to the team.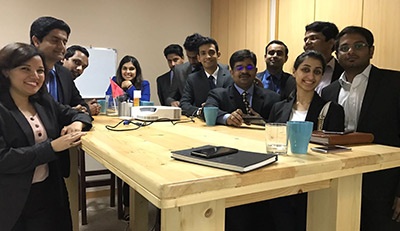 Established in 1988, Desert Group has been known to drastically transform an arid desert into a lush green landscape by infusing creative design and technical expertise in the agriculture industry. Their focus is to design, landscape, build and manage golf courses, maintain services, grow and supply biological assets and provide a range of services centered around water, green and sustainability.
Mr. Syed Noor Basha (Purchase Executive) explained their sourcing techniques. He also took the students through their inventory systems and answered all the queries. The interaction was followed by a facility tour to the Desert Garden Center, which is their nursery retail business, located right beside their main offices. It is a green and lush place with various product offerings ranging from home plants and horticultural shrubs to artifacts and related home décor.