SP Jain's Executive Career Acceleration Pathway (ECAP) initiative conducted a Corporate Interface Session on 17th June, 2017, for the EMBA cohort at its Dubai Campus. The session focused on Business Intelligence and Big Data Analytics, and called upon Mr. Safdar Hussain (Head, Operational Excellence & Data Analytics, ADCB) to share strategic & innovative insights on the topic.
The session explored identifying inefficiencies within the organisation through Big Data. It analysed the role and the process of Data Analytics and Machine Learning within organisations. In effect, the presentation was a summary of the exceptional learning journey of the speaker. It gave the viewers a 'front-row seat view' of powerful applied research he had conducted in the UK. "Chances are we're swimming in data. It's become ubiquitous. However, so has the potential for turning it into revenue producing action," said Mr. Safdar Hussain while addressing the audience.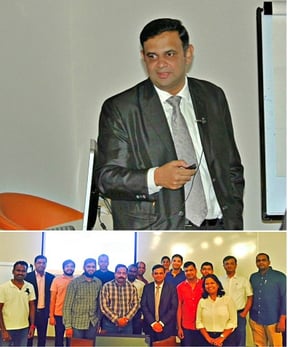 The EMBA participants thoroughly benefited from the session and were even willing to take up live projects from the learnings, at their respective organisations.
"The topic is not only relevant to today's business world, but I also felt that it is need of the hour. The speaker, Mr. Safdar Hussain, is indeed an expert in the field." -Aejaz Ahmed Pallikonda Latheef, EMBA Batch 32