SP Jain School of Global Management's proprietary online learning technology, Engaged Learning Online (ELO), has won in the category of 'Innovative Technology Solutions for Higher Education Provider' at BW Education's Top Education Brand Awards 2022, organised by BW Business World, a leading Indian business news publication.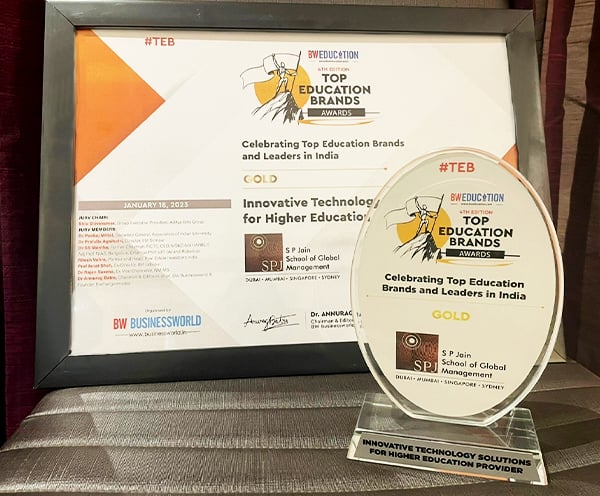 This notable recognition was awarded after a rigorous jury-led process comprising eminent industry leaders. The award ceremony was held on January 18, 2023, at The Park, New Delhi, India.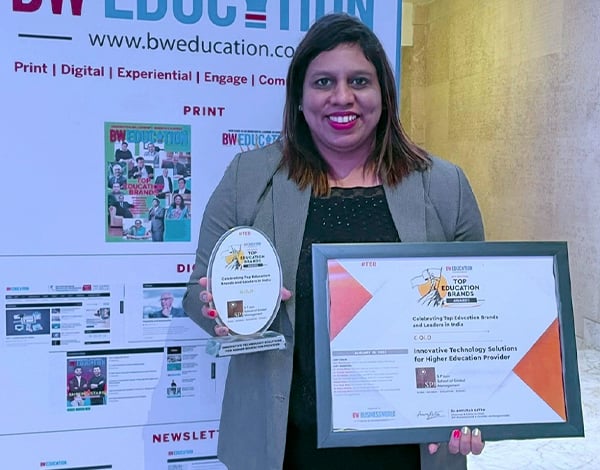 Rashmi Dhole (Head – Public Relations, SP Jain School of Global Management)
The jury included:
Jury Chair
Shiv Shivakumar (Group Executive President, Aditya Birla Group)
Jury Members
Dr Pankaj Mittal (Secretary General, Association of Indian University)
Dr Prafulla Agnihotri (Director, IIM Sirmaur)
Dr SS Mantha (Former Chairman AICTE, CEO, MSKC-MAHAPREIT, Adj Prof. NIAS, Bangalore, Emeritus Prof. VITI – Al and Robotics)
Ritesh Vohra (Partner and Head, Real Estate Investcorp India)
Prof Janat Shah (Ex-Director, IIM Udaipur)
Dr Rajan Saxena (Ex-Vice Chancellor, NMIMS)
Dr Annurag Batra (Chairman & Editor-in-chief, BW Businessworld & Founder, Exchange4media)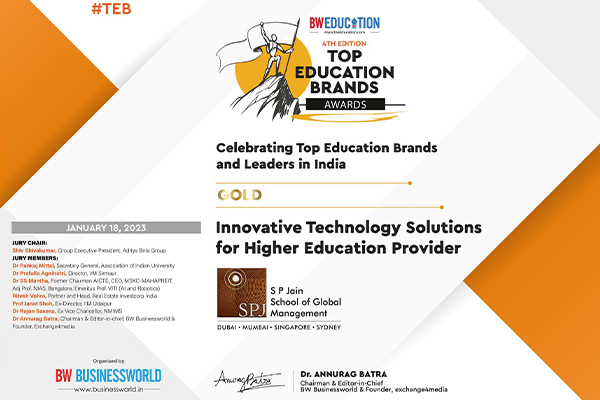 ELO, launched in 2018, is a one-of-a-kind virtual learning platform that brings the dynamism and engagement of a physical classroom online and in real-time.
The ELO studio, where professors conduct their classes, is set up with robotic tracking cameras that allow them to engage in one-on-one conversations with students as if they were sitting side-by-side. Faculty can stand and move freely, maintain eye contact with students and respond to their visual cues, moderate discussions and more, all in real-time. The technology enables them to evaluate each student's level of engagement, respond to them individually and keep them motivated – just like they would in a conventional classroom. Classes are timetabled, questions are asked and answered immediately, and the engagement is on par with what one would experience in a traditional classroom. Another advantage of this technology is that while the faculty delivers the lecture from an SP Jain ELO studio, the student could be in any part of the world.
The online format of SP Jain's Executive MBA program for working professionals is delivered using ELO technology. The program structure allows you to build actionable insights, make an immediate impact at work, earn your MBA degree without taking a career break, and grow your global network.
This win adds another milestone to our awards portfolio in the virtual learning space. Last year, SP Jain won an award for its Executive MBA program in the 'New age institutions providing online degree' category at the Education Innovation Awards 2022. SP Jain's ELO platform also won the 'Best Tech for Education Award' at the India Digital Enabler Awards 2020.